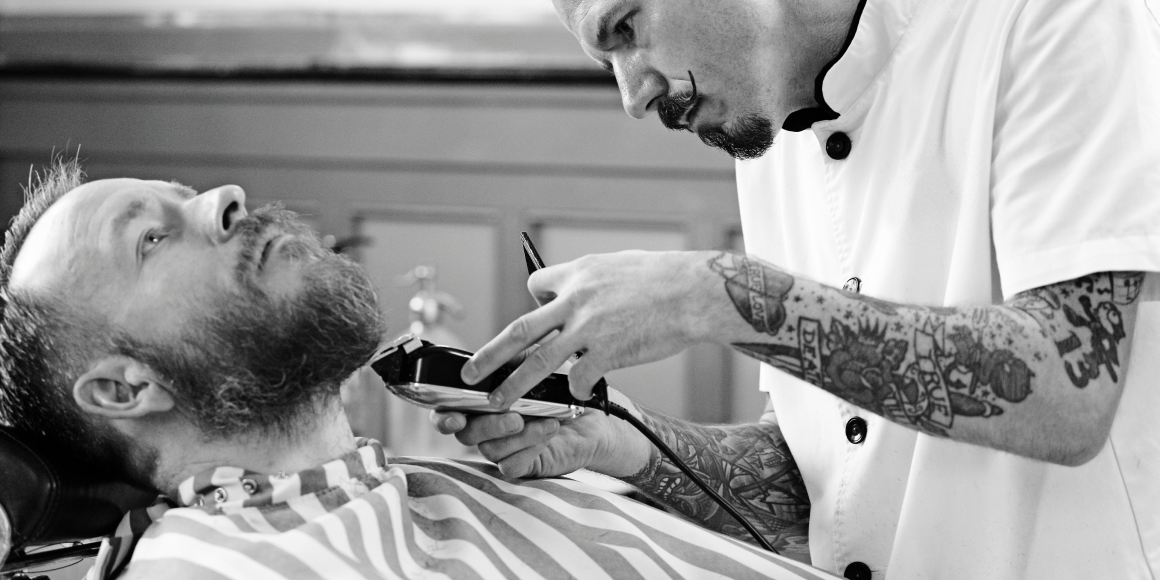 From Concept to Clippers: The Ultimate Guide to Launching and Growing Your Barbershop Business
Starting a barbershop requires meticulous planning, research, and effort to ensure that your business thrives. If you're a seasoned barber or someone new to the industry, there are several key steps you need to take to get your business up and running.
The first and most crucial step is to develop a solid business plan for your barbershop. To ensure the success of your barbershop, it is crucial to develop a comprehensive business plan that includes your goals, projected financials, marketing tactics, and target customer demographics. Conduct thorough market research to identify areas with high demand and low competition. To ensure the success of your barbershop, it's crucial to determine the best location for your shop and develop a marketing strategy that appeals to your target customers. 
Once you've identified your target market and developed a business plan, the next step is to secure the necessary licenses and permits to operate a barbershop in your area. This includes a business license, barber license, and health permit. To ensure compliance with local regulations, it is essential to consult with your local government and obtain the necessary permits and licenses.
After obtaining the necessary licenses and permits, you can start outfitting your shop with the necessary equipment and supplies such as barber chairs, clippers, scissors, towels, razors, and styling products. Consider the size of the space and whether it can comfortably accommodate both your equipment and customers. Additionally, take into account the expenses of rent and utilities.
Recruiting a team of skilled barbers who share your passion for the industry and are dedicated to delivering exceptional customer service is the final step to starting your barbershop. Offering regular training sessions and incentives to motivate and retain the best barbers in the industry can help your barbershop stand out and provide exceptional service to your clients.
In conclusion, starting a barbershop requires careful planning, thorough research, and strategic decision-making. By developing a solid business plan, securing the necessary licenses and permits, outfitting your shop with necessary equipment and supplies, and recruiting a team of skilled barbers, you can start your barbershop with confidence and build a successful business that caters to your community's needs.
Perfect Business Plan for Your Barbershop: Key Steps to Success
Having a solid business plan is crucial for any entrepreneur who wants to start a successful barbershop. A business plan for a barbershop will include a detailed financial projection, an analysis of the competition, and a marketing strategy to attract customers.
To create the most effective business plan for a barbershop, it's essential to conduct thorough market research to identify your target audience and competitors. Once you have a clear understanding of the market, you can develop a marketing strategy to attract and retain customers.
To ensure a successful barbershop business, it's important to create a financial projection that outlines both estimated revenue and expenses in your business plan. This can help you determine the amount of capital you need to start your barbershop and ensure that you can cover your costs and generate a profit.
In addition to financial projections, your business plan should also include a staffing plan that outlines the roles and responsibilities of your team. Consider including a staffing plan in your business plan that outlines the number of employees you need to hire, their qualifications, and expected salaries. This can help you ensure that you have the right team in place to provide quality service to your customers.
To ensure success, it's crucial to establish a strong brand identity that resonates with your target customers and sets your barbershop apart from competitors. Choose a name and logo that are memorable and unique, and make sure your marketing materials reflect your brand identity.
Overall, a well-crafted business plan for a barbershop is essential for starting and growing a successful business. Consider using data-driven insights and analytics to make informed decisions and stay focused on achieving your goals.
Location, Location, Location: The Key to a Successful Barbershop Business
Choosing the right location is crucial for the success of any business, including barbershops. At IN THE CHAIR, we understand the importance of a good location and provide tips to our barbers to help them choose the right spot. Here are some of our recommendations:
Look for high-traffic areas: A location that sees a lot of foot traffic is ideal for a barbershop. Places like malls, busy streets, and commercial areas are great options.
Study the target audience: When selecting a location for your barbershop it's essential to consider your target audience. If you're targeting college students, a location near a university might be the best choice. If your clientele is primarily working professionals, a location near business centers might be more suitable.
Check out the competition: Scoping out the competition in the area is essential. Avoid choosing an area that is already saturated with barbershops as it may impact the success of your business.
Look for parking: A location with convenient parking options is important for customers who drive. Make sure that there is adequate parking space accessible for your clients, as it could negatively affect their experience if they have to circle searching for parking.
Take into account the cost: It's important to take the cost of the location into account, including the rent or lease expenses.
By following these tips, our barbers can find the perfect location for their business and attract more clients.
Navigating Legal Requirements for Your Barbershop
Starting and running your own business can be exciting, but it also comes with a few legal hoops to jump through. Starting a barber business requires a provisional license, which is one of the most important legal requirements to fulfill.
A provisional license is a temporary permit that allows barbers to work while they complete their training and apprenticeship. To start a grooming business, it is crucial to obtain a provisional license, and checking with your state's licensing board is vital to understand the requirements. The process can vary from state to state but typically requires the completion of a certain number of training hours and passing an exam.
In addition to obtaining a provisional license, barbers must also be aware of other legal requirements. One example of compliance requirements that barbershop owners must adhere to is following state and federal employment laws, such as minimum wage and overtime regulations. They must also have proper insurance coverage to protect themselves and their business from any liabilities.
Our app also allows barbers to keep track of their clients and transactions, ensuring they have accurate records for tax purposes. We understand that navigating the legal requirements of starting and operating a business can be overwhelming, which is why we strive to provide as much support and guidance as possible.
In summary, we recommend that barbers research their state's licensing requirements and obtain a provisional license before starting to offer services. Barbershop owners should also verify that they are adhering to all relevant state and federal employment laws, as well as having adequate insurance coverage. By understanding and adhering to these legal requirements, barbers can protect their business and focus on delivering exceptional grooming services to their clients.
Building a Winning Team
Team building is not just a buzzword - it's a vital element for success in any business. To deliver top-notch grooming services, you need a team of skilled and cohesive members who can work together toward a common goal.
To kickstart the team-building process it's important to understand the unique strengths and weaknesses of each team member. One way to achieve this is by conducting personality tests, organizing team-building activities, or scheduling one-on-one meetings.
Effective communication is also crucial for team building. To promote effective communication and collaboration, it's crucial to conduct regular team meetings to discuss progress, exchange ideas, and resolve any conflicts that may arise. To promote a healthy team dynamic, it's important that all team members feel valued and encouraged to share their opinions and ideas without any fear of criticism or negative judgment.
Celebrating team successes is also an important aspect of team building. Recognize and reward the hard work of the team members to boost morale and encourage continued excellence. Team-building activities like group outings, volunteer opportunities, and team-building exercises can also help build a sense of unity and collaboration.
In conclusion, team building is a key factor in the success of any business. By identifying strengths, promoting communication, celebrating successes, and implementing team-building activities, you can build a strong team that delivers exceptional grooming services and drives growth for the business.
Strong Team: The Secret to Delivering Exceptional Services
Building a strong team is crucial for any business. A winning team promotes collaboration, communication, and productivity, which leads to providing top-notch grooming services and delivering excellent customer experiences.
To build a winning team, the focus should be on creating a positive and inclusive work environment that encourages open communication, feedback, and a shared vision. Team-building activities, training, and workshops can help team members understand their roles and responsibilities better and provide opportunities for skill development.
It is equally important to ensure that each team member is aligned with the company's values, mission, and goals, fostering a sense of ownership and commitment to the success of the company. It's important to empower team members to make decisions and contribute to the growth and development of the business.
To build a strong team, it is essential to maintain transparency and accountability among team members. Regular team meetings should be held to discuss progress, challenges, and opportunities. Additionally, team members should be held accountable for their actions, and their contributions should be recognized and rewarded accordingly.
INCH: Revolutionizing the Barber Booking Experience
The name 'In the Chair' perfectly encapsulates the essence of the online barber booking app, INCH - it's all about putting the client in the spotlight and giving them a premium experience. The name represents the feeling of relaxation and confidence that comes with sitting in the barber's chair and receiving a top-notch grooming service. We believe that every client deserves this experience, and our app makes it possible.
As for our business plans, INCH is dedicated to expanding our services and reach to benefit both barbers and clients. We aim to continuously innovate and enhance our app to stay ahead of the game in the online booking industry. Our goal is to become the go-to platform for all barber-related services, from booking appointments to finding the perfect barber. We're passionate about pushing the boundaries of traditional barbering services and paving the way for the future of the industry.
Summary
To sum up, the significance of building a robust team cannot be overstated. It is vital to create a positive and inclusive workspace, align team members with the company's objectives and principles, enable them to make decisions, and foster transparency and accountability. These measures will assist you in creating a winning team that offers outstanding barber services and unmatched customer experiences.