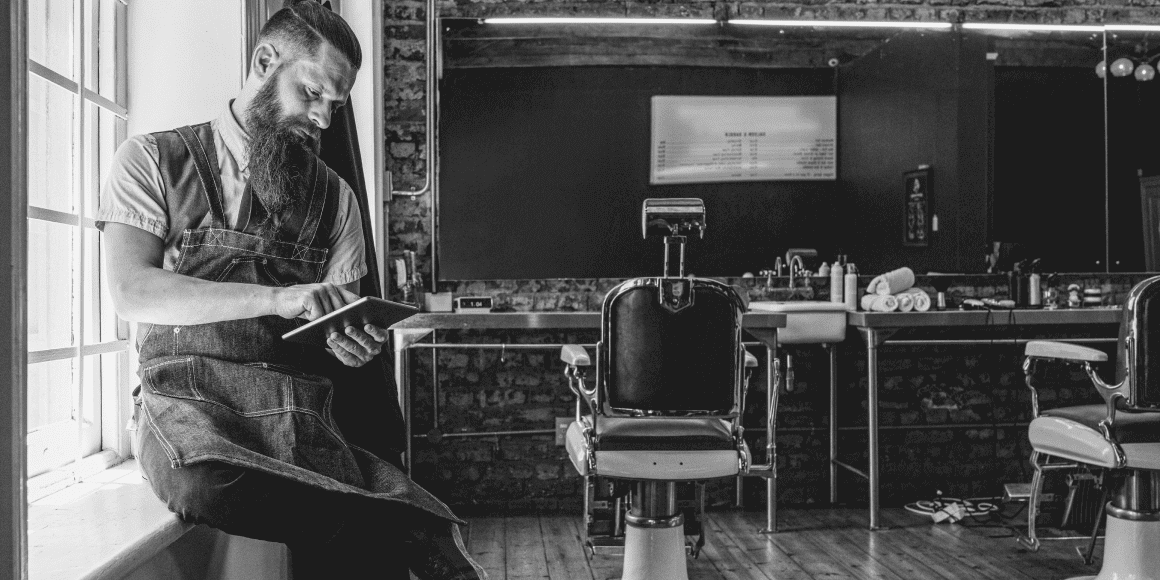 16 barbershop marketing ideas to grow your business and attract more customers
Marketing plays a vital role in the success of your barbershop business. With an excellent barbershop marketing plan in place, you can raise awareness of your skills and get more clients to your chair. There are countless ways to boost your barbershop business and some are very easy to execute.
If you want to attract more customers, increase your brand's visibility and improve your earnings, learn and implement these cost-effective barbershop marketing strategies.
Barbershop marketing ideas to help your business succeed
In the digital age, marketing for barbershops is not only limited to traditional advertising methods. Below are modern and competitive ideas you can try to help you gain a competitive edge and achieve your business goals.
1. Get a barber website template with online booking built in
A business website is like a digital storefront. Just as a physical store is designed to showcase and sell your services to potential clients, a website also serves as a platform to promote your services, but online. People can easily find your business information, learn about your services and even book an appointment.
Building a business website is relatively inexpensive and easy. First, you have to register a domain name, get a hosting plan, install a barbershop website template, and then add text and photos. If you're wondering what to write on your barbershop website home page, it's just the message you want to send to your audience, such as why they should choose your services and why you are the best option for a barbershop in your area.
Finally, by adding a Booking Page to your website, you enable clients to schedule an appointment online. This means that instead of calling or visiting your shop, customers can simply go to your website and choose a convenient date and time to get a haircut.
This is a convenient and efficient way to manage appointments for both you and your clients.
2. Set up social media pages for your barbershop
Social media users continue to grow year after year. According to Datareportal's latest statistics, there are 4.76 billion global users of social media in January 2023, which can be translated to 59.4% of the world's population.
To a barbershop owner, this means that if you don't have Facebook and Instagram pages, now is the best time to create them. Facebook is not only a venue for social interactions. You can also use it to get bookings from customers. You may even consider opening TikTok and YouTube business accounts along with them as users on these platforms continue to grow. Tutorials and before/afters garner huge view numbers and you can push traffic to book your services.
If you're wondering what you should put on your Facebook business page (or other social media pages, for that matter), just keep it simple and personal. Reach out to your followers, produce interesting content that showcases your specialties, promote your brand and have engaging conversations with them.
3. Update Google My Business and other online directories
When planning to implement cost-effective barbershop marketing ideas, what you need is to maximize all the promotional opportunities online. Online directories, for instance, are websites that collect and feature information about local businesses. When people search for a nearby service provider, search engines use directories to quickly list all relevant results.
If you want to take advantage of this marketing strategy, start by getting listed on Google My Business, Bing Places for Business, Yelp, and Yellow Pages. You'll be asked to input relevant information about your barbershop, such as business name, store address, telephone number, email address, website, and opening hours, and to upload photos and a business logo. You can also drop in a booking link to get appointments straight from search results.
4. Launch Google Ads campaigns
One of the barbershop promotion ideas you can quickly do online is to create search ads. According to a Google report, 65% of online users click an ad before taking an action, such as making a purchase or booking an appointment. If you want to get ahead of the competition when users type "barbershop near me" or "best local barber", starting a Google Ads campaign is a great way to get seen at the top of search results.
5. Run social media ads as part of your barber marketing plan
Did you know that you can also run and manage ads on social media, such as Facebook, Instagram, YouTube, and TikTok? This helps to convert potential clients who spend time looking for barber services in specific locations. There are many social media tools to gain more clients as a barber – check out this 101 guide from Shopify.
6. Send email marketing to increase retention and loyalty
Collect the email addresses of your new and existing customers and regularly send out promotional emails or brand-related newsletters. This way, they will continue to remember your business and stay loyal to your services.
According to Statista, 49% of consumers said that they would like to receive promotional emails from their favorite brands every week. Each email can share relevant booking links, helping to convert leads at the highest point of engagement.
7. Launch in-store or online promos
One of the most effective ideas to boost barber business is a promotional event — online or in-store. This includes discounts on hair services, a free haircut on the 5th or 10th visit or product giveaways. You can also host competitions, collab events with another local business to reach a wider audience and demo events to promote new services.
8. Blog about your business (or have other brands mention you)
Blogging is another online marketing strategy that creates more brand awareness. You can utilize blogs in two ways. The first is for you to write about any topics related to your business and publish articles on your website regularly. Not only does this add credibility to your brand, but it also helps with SEO. Your website appears higher in Google search results for relevant barber service keywords.
The second way is to ask clients to blog about your services and their experience in your shop. This garners attention for your business if they run a website and have a solid following. This simple type of word-of-mouth advertising for your barbershop business can bring more clients to your door.
You could also considering partner with local businesses to promote each other, or with influencers who fit with your brand mission.
9. Design barber business cards with a QR code
While many barbershop promotion ideas are implemented online, traditional ways of marketing should still be practiced. When considering barbershop business card ideas, ensure that you include relevant information about your business, such as the barbershop name, address, phone number, email and website URL.
You can also add a QR code that customers can scan and lead them straight to your barbershop's online Booking Page. This way, they can easily make an appointment for a haircut on mobile, from anywhere.
10. Request reviews and showcase them online
Real feedback from real people is a tried-and-tested marketing strategy that delivers gamechanging results. According to Podium, 88% of consumers check reviews when researching a local business. When thinking about how to market a barbershop, ensure you prioritize collecting testimonials from your clients and post them online.
With INCH, you can automate review requests to save you time on follow-ups.
11. Tap influencers to help with your barber marketing
Influencers are able to drive huge numbers to your social media pages. Connected with a dedicated following, their comments and recommendations can make or break a brand.
With this in mind, consider reaching out to some well-known influencers in your area. The people you partner with needn't be household names, but they should relate to the demographics of your client base. You could invite them to your shop for a complimentary clip or to a brand event. Have them try out your barbershop services, and let them document or record the experience so that their followers can watch and learn about your business.
12. Set up a selfie station
Because social media is a truly powerful tool, another way to take advantage of it is by setting up an Instagrammable corner in your barbershop where customers can take a selfie after a hair service and post it to their Facebook or Instagram page. Make sure to promote a hashtag that represents your brand.
13. Offer gift cards and discount vouchers
Everyone loves to get discounts and save money. Consider offering gift cards that clients can give to friends and family. You could also set up discounts as prizes or incentives for your most loyal clients.
Similar to your barber business cards, ensure you add a QR code to any promotional materials. Clients can easily scan to book an appointment with you.
14. Produce branded promotional items
If you want to boost brand awareness, a barbershop marketing idea to consider is designing and producing promotional items, such as t-shirts, caps and haircare items with your logo on them. Whether you want to sell them or give them away for free, promotional products like these can be effective in marketing your business and increasing brand recognition in your local area.
15. Partner with businesses in your local community
Barbershops can benefit greatly from partnering with businesses in the local community. This collaboration can help increase your business's visibility, leveraging the established audience of another business. By working with other businesses and promoting each other's services, you can attract more foot traffic to your shop and increase your client base.
Some local businesses you can partner with include clothing stores, fitness centers, salons and spas, and coffee shops. Partners can be in different industries but their services and/or mission need to relate in some way.
16. Host and attend community events
Community events are a great venue to build your brand, network with potential clients and business partners, and promote your barbershop services. More importantly, whether you're hosting or participating in an event, your shop can give back to the community and support local initiatives. This helps to build goodwill and positive relationships with community members and organizations.
Creativity is key to marketing and growing your business
There are endless barber marketing ideas to try. Be creative, resourceful and adventurous when it comes to promoting your business to new clients. With the accessibility of innovative online tools, it's straightforward to engage with potential clients and organizations.
If you're a barbershop owner and wanting to improve your business' visibility and brand recognition, you have to be ready to provide a seamless experience to your clients. From finding your business information online and being able to book an appointment on your website, to engaging with your brand on social media, clients have a high bar for what constitutes a successful and competitive barbershop.
IN THE CHAIR (INCH) is an online barber booking app that can help take your marketing efforts and client experience to the next level. Create your free account and allow your audience to book an appointment with a just few clicks.