Get into it
You're booked
Share your availability online and max out your calendar. Your clients select an appointment slot that suits you both.
You're paid
Connect your custom barber booking system with Square and accept secure payments ahead of time.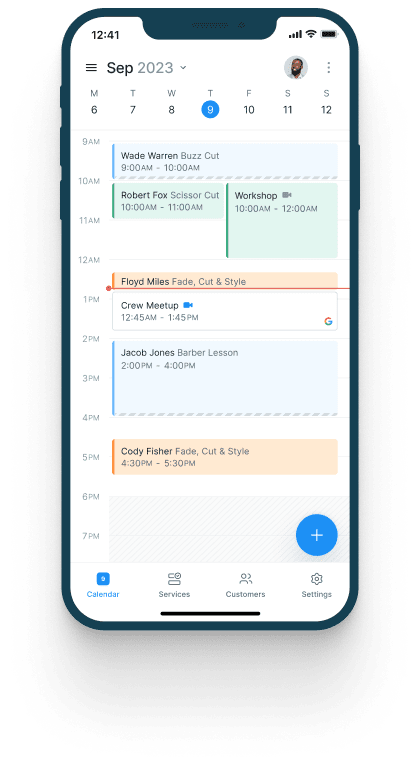 You're busy
Missed appointments are a distant memory. Automate personalized email reminders and get clients to your doors on time.
They're sorted
Keep their crowns looking correct with recurring appointment booking. There's a seat ready for your VIPs, always.
3 simple steps
3 simple steps and you're bound for glory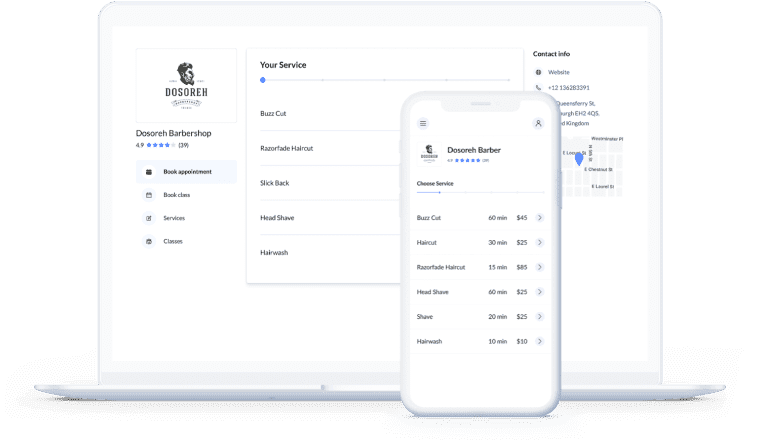 to infinite glory
Prep it

Build your Booking Page to display your skills, prices, and real-time availability online.

Style it

You've got a rep to project. Add your branding, reviews, and an Instagram stream.

Showcase it

Reach a wider audience by connecting your Booking Page with your site and social media.
The art of connecting
Tools of the trade
IN THE CHAIR integrates with your website, social media channels, CRM, and a variety of leading business platforms. Keep your scissors in-hand while your apps sync in the background.
Get your free account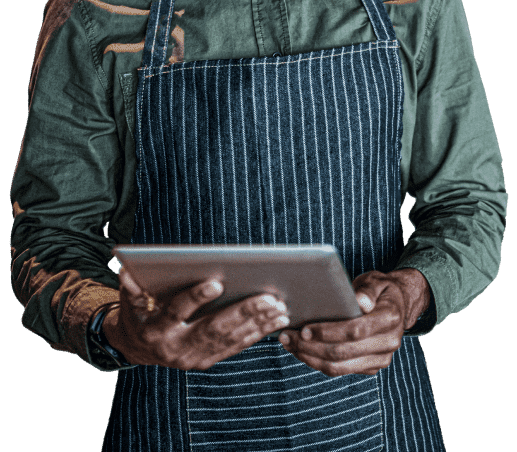 Level-up with a barber appointment app
Custom SMS reminders
2-way calendar sync
Recurring appointments
Start Pro
Everything from Pro at an exclusive price for larger shops.  Learn more
Start Team
*Saving in comparison to monthly plan
The more you know, the more you like it
You can edit how far in advance appointments can be booked or cancelled by clients. In your barbershop scheduling app, go to Apps & Integrations > Your Booking Page > Configure. In the Booking Page section, select 'Booking Policies'. You can customize how clients self-schedule online, e.g. by setting a booking lead time and adding T&Cs to your Booking Page.

With IN THE CHAIR, you can accept payments from your Booking Page or calendar. All accounts have access to the Square integration. All you need to do is pick the services that you'd like advance payments for. You can do this in your barber booking app's Settings.

Get paid through your Booking Page: After your client selects a service and appointment time, they'll be asked for payment. This can be by credit or debit card. If you have specified that prepayment is mandatory, your client will need to complete the transaction to confirm their booking.

Additionally, you can count those coins with IN THE CHAIR cash register.

Yes. Clients are sent an appointment confirmation email that can feature reschedule and cancelation links. Clicking 'Reschedule' routes them to your Booking Page where they can choose a new appointment slot.

Once a new time is confirmed, your barber online booking system notifies both the customer and service provider. Details automatically land in your IN THE CHAIR calendar.

After appointments, IN THE CHAIR sends review request emails to your clients. Capitalize on that moment they see the front, back and sides, every single time. Clients click through to your Booking Page's 'Reviews' section where they can leave a rating and feedback.

You can moderate reviews and highlight top testimonials on your Booking Page. When new customers visit your Booking Page, they see positive words front-and-center.

A Free IN THE CHAIR account allows you to create 4 staff calendars and Booking Pages. Pro accounts get 2 staff calendars with access to exclusive features, like text reminders and recurring appointments. Opt for Team and get all Pro perks for 3+ staff.

Learn more about our plans and pricing for your barbershop booking app.

Yes. Linking your IN THE CHAIR Booking Page with Facebook and Instagram takes minutes. Your profiles allow you to display a 'Book' button that leads online visitors to view your services and availability.

Clients can book appointments with you or your team without leaving the Facebook or Instagram app. Bookings appear in your calendar as soon as they're confirmed.