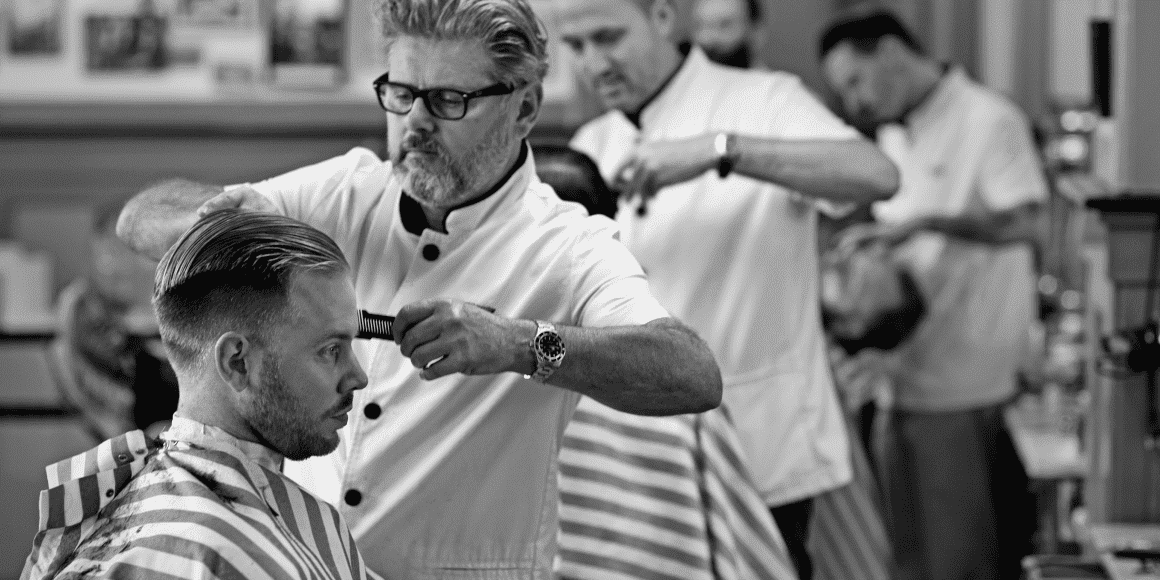 How to get more clients as a barber: 8 game-changing tips
Barbering is a multi-billion dollar industry with an impressive 1.6% forecasted market growth. Barbershops and independent barbers will inevitably face higher competition in such a booming environment. It's important that each artist prepares in order to keep the clients coming in.
Whether you're a seasoned pro or early-on in running a business, knowing how to get new clients as a barber is crucial. The advancement of technology constantly influences client behaviour and demand, and every shop has to adjust their acquisition methods.
With that in mind, we want to offer some inspiration - 8 tips on how to get more clients as a barber.
Before diving in, we'll cover some of the typical challenges faced by barbershops. After that, it's all about the essential solutions to grow your audience.
What are the challenges in building clientele as a barber?
The following common pain points informed our 8 barber tips to get clients. If you've experienced any or all of these challenges, then our tips will help to overcome them.
Lack of a new customer acquisition strategy
It's not unusual for a barber to rely on word-of-mouth and repeat clients to keep their business going. However, this can limit their shop's share in a competitive local market. It's important to actively seek new clients, even when the books are full. Barbers need to raise awareness of their business to new leads as this will assist long-term growth.
Loss of artistry
Hair trends are constantly changing and shops need to keep up. Complacency and routine can often mean a barber misses out on clients wanting the latest styles. If a barber has a known skill set and sticks to it, that's cool. But diversifying what's on offer can help reach the widest range of clients.
Less-than-perfect communication
One of the biggest reasons new clients don't return to a shop is dissatisfaction. Rather than reflecting on the barber's skills, this can show a disconnect between the barber and the client's expectations. In some cases, what the client wanted wasn't clearly established from the get-go.
Inefficient appointment management
Have you experienced that awkward situation when a client arrives - having booked in advance - but the appointment details can't be found? It happens to even the most organized barbers who take on styling, scheduling, bookkeeping and everything in between. Finding a more efficient booking system can prevent this type of issue. We'll present a solution later on using a barbershop appointment app.
Little client-centricity in service
Barbers across the globe frequently search online for "what do barber shop clients want," "barber shop how to get new clients," and "how to get clients barbershop". A key consideration should be accessibility. For example, if clients still have to call or visit you to book an appointment, it's likely to impact convenience. Could this lead some people to competitors that offer faster, self-service options?
Alright, now that we've covered a few pitfalls, let's discuss how to avoid them and open your business to a whole new audience. Here are our 8 tips on how to get more clients as a barber - whether you run a shop, rent a chair, travel to cut hair or work from home.
8 tips on how to build barber clientele
1. Define your client base
If you're wondering how to build your clientele as a barber, it helps to understand what turns one-time clients into loyal fans. Loyal ambassadors can influence others to visit your shop.
Research your target market, including their demographics, location and the specific barbershop services they're interested in. You should also be aware of your competition. From there, align your barbershop's offering to the needs of your target clients. This can greatly impact your chances for return visits and good word-of-mouth that helps to grow your community.
2. Ensure the best client experience
Your team should strive to make every client visit positive and personalized. Provide training so each team member hits your predefined standards and clients feel take care of, no matter who they interact with.
A solid tip for maintaining excellent client service is noting individual feedback. This can be applied to a client's next visit, helping to tailor your services to their needs. This goes a long way towards encouraging 5-star reviews and attracting more people to give your shop a try.
3. If you have a physical barbershop, invest in your interior
There's no need to overhaul your entire space. Keeping your shop simple yet chic and clean is enough to make a great first impression. Look out for any repairs that are needed; these are the costs that are simply non-negotiable. Clients trust you to make them look well put together and your interior reflects your attention to detail.
It's a good idea to replace old equipment and patch up damaged walls if they're scuffed or faded. You should also train your barbers and assistants on how to keep styling areas clean. All of these things will be noticed by clients, highlighting your brand's professionalism.
4. Utilize social media platforms
It's no surprise that "social media tools to gain more clients as a barber" tops Google searches; barbers already know that social media is a terrific and necessary sales tool.
Be sure to showcase your brand online and make it easy for potential clients to contact you. Depending on your target audience, you may want to invest in Facebook, Instagram, BeReal or TikTok - any platform that's all about the visuals. Keep your pages active by posting business-related content regularly, including before and afters, award wins, company news and event attendance. You should also include online booking options to capitalize on engagement.
5. Organize special promotions
Running seasonal events at your barbershop is an ideal way to get new clients through the door and discussing your brand with others. If your business is new in the community and you want to gain a following, consider incentives to stand out and be seen.
Incentives like free products for repeat clients, or discounts for those who reach a minimum spend amount on your services, can build loyalty. This also shows potential clients that you value patronage and gives them further encouragement to book in.
6. Request reviews from your clients
Ask clients to leave a review online if they're satisfied with their haircut or shave. When you're trying to figure out how to grow a barbershop, building its reputation is an integral part of your overall marketing strategy. Glowing testimonials on Google or your business website inspire new bookings, ultimately expanding your client base.
You can automate review request emails after appointments - or if you're feeling bold - offer clients a smartphone or tablet when they're complimenting your work. Either way, they have a direct route to provide feedback, rather than having to find where to leave it independently.
7. Introduce the right barbershop software
As mentioned earlier, disorganized appointment management can lead to a loss of clients and slow-down the growth of a shop. One of the most effective ways to remedy this is using robust, reliable software. The ideal booking software simplifies appointment setting, enabling clients to book online and barbers to check their phones for calendar updates.
With automated booking, you can save time that would otherwise go to manually updating your calendar and CRM. The right software can also provide you with insights into your client base, such as preferred appointment times, average spend and payment preferences, which can help you better serve your audience, increase retention and appeal to new clients.
8. Make data-driven decisions
Rather than just focusing on sales or net profits, you need to examine how your barbershop is doing overall. Which days are busier than others, and which styling products are most popular? By knowing the answers to questions like these, you can create a more effective marketing strategy and even optimize your scheduling and ordering processes.
Manual tracking helps but with so many cloud-based solutions that highlight key data points for the user, every shop should consider going digital. Data-savvy decision-making not only helps you to reach more clients, but also improves end-to-end communications with your target audience.
We know that investing in software can be a big step for your business. To help, here are some considerations to help you choose the right software.
Considering how to build clientele as a barber? Choosing the right barbershop software helps
Selecting the best barbershop management app or software is an important decision, especially if you've relied on traditional booking methods for a long time.
As a barber, you need the right software to manage your bookings, expand your client base and keep you moving forward in your craft. Trying to compare various options on the market can be overwhelming, so here are a few factors to keep in mind:
✔ Intuitive interface
It's important to choose an app that's easy to use, easy to learn, and easy on the eyes for both you and your clients. The ideal app doesn't need to house every feature and integration; it only needs to serve its purpose of simplifying booking for clients.
✔ Reliability
You want to choose a reliable app that runs as expected and doesn't frustrate your clients. One way to ensure this is to check the compatibility of the app with different devices and try it out with your team first. if it easily syncs with iOS and Android devices, across desktop, tablet and mobile, you could be more inclined to trust it. And if your barbers approve of the switch and enjoy managing their calendars online, then you have more motivation to introduce online booking to your clients.
✔ Special features
Make the most out of your investment by choosing an app that fully automates your booking process. In addition to setting up online booking, your app should automate client reminders and send your barbers real-time notifications for new appointments.
For a barbershop app that offers all these features (and so much more), consider IN THE CHAIR. INCH automates appointment scheduling to help bring more customers to your doors and it only takes a few minutes to create an account.
We hope our insights help you to grow your clientele, but keep in mind that they're only guides. To ensure that your business remains relevant and memorable for many years to come, you need to put your own unique spin on every service you provide.
Decided that the first step to growing your client base is introducing a barbershop app? Nice, you can get started for free, right here.